Hey Team Rocket,
I, like the rest of us, spend a lot of time sitting. 8 hours at work, an hour to work on the bus, and an hour back. Plus at least 2 or 3 when I get home, working on personal projects various and sundry. Basically the entire day.
It never used to bother me all that much, but I seem to have reached the point where I'm starting to feel really stiff and achy. Plus, to be frank, by the end of the day my ass hurts something terrible.
I've done a fair bit of reading about sitting apparati, especially the Herman Miller Aeron. Now, I'm sure it really is a snazzy bugger of a chair, but I just don't have umpteen bazillion dollars to spend on a new place to put my bum. I know it's worth it, since I spend so much time in it, but it's hard to wrap the head around paying that much for a chair.
There must be a better way!
Enter the question:
What about a Standing Desk?
Every 20 minute (it seems) LifeHacker or BoingBoing or the New York Times is ePublishing an article on how wonderful it is to stand while you work. I have to say that while these sources' reputations all hinge on being very early adopters of new tech fads that may or may not have as much merit as they seem, I must say that I'm a hairs-breadth from convinced.
At the same time, I'm dubious. I all too vividly remember the abject misery of being 16 and working 8 consecutive hours behind a retail desk and movie theatre concession stand. Ignoring the fact that I was also allowed neither to eat nor drink while in view of the public (sometimes 4+ hours at a stretch), I remember it being extremely tiring for my knees and lower-back.
I know there are at least a few of you who are already doing it standing, so, I thought it might be fun/interesting/illuminating to compile a compendium of Pros and Cons for anyone who might be thinking of making the switch to a standing desk.
Input is encouraged!
---
Here's my hack'n'slash version so far. You will notice that my KRKs are actually serving as the supports for the further shelf. Obviously I still have some work to do, But it's a start.
---
The List So Far:
Pro:
Reduced pressure on lower back.
Increased mobility.
Calorie Burn.
Increased concentration.
No need to get up to pace around importantly while talking on the phone.
Con:
Tired feet and knees.
Varicose Veins
Awkward for client visits (particularly if they're shorter/taller than you)
Your co-workers may, or may not, look at you funny.
Re-calibration of room acoustics (possibly).
Meh:
Posture, posture, posture. Can't get around the problem of posture. Just as important as when sitting.
---
Standing Desk Manufacturers:
Build Your Own:
Reference photos: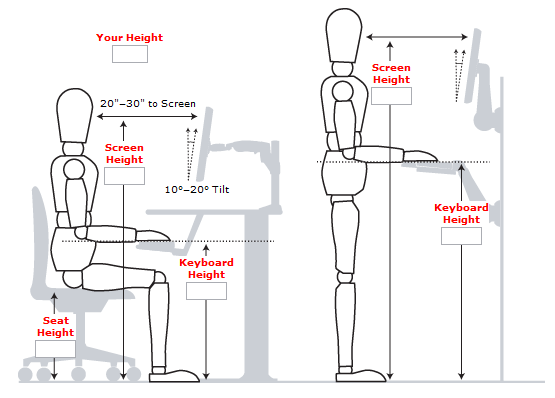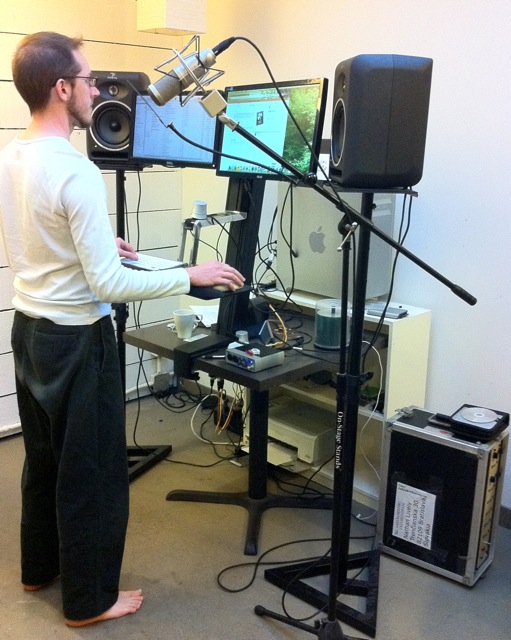 alt text http://studio.jory.org/pics/studio_control_room_5668_lg.png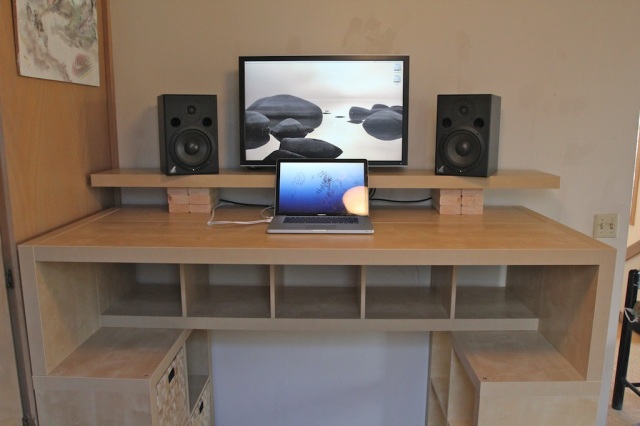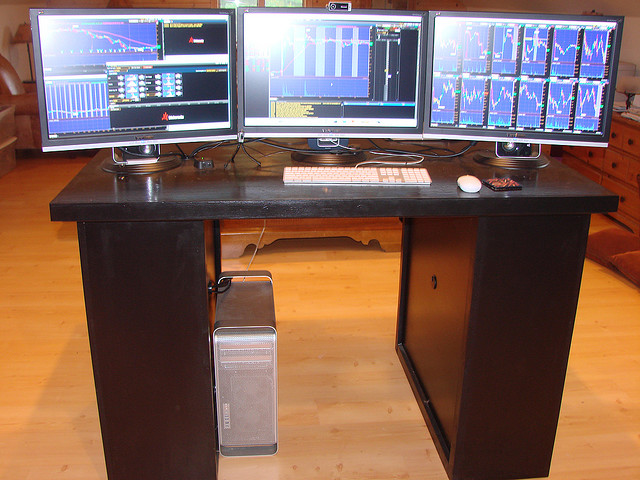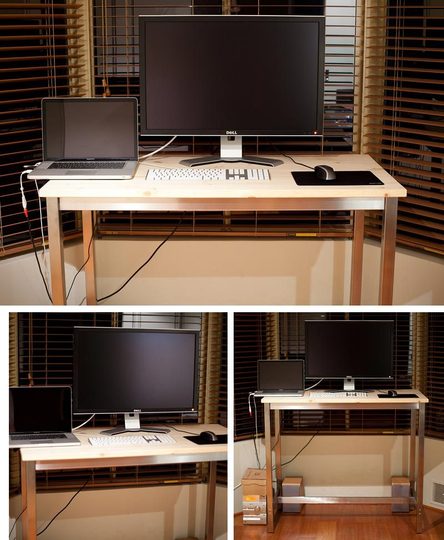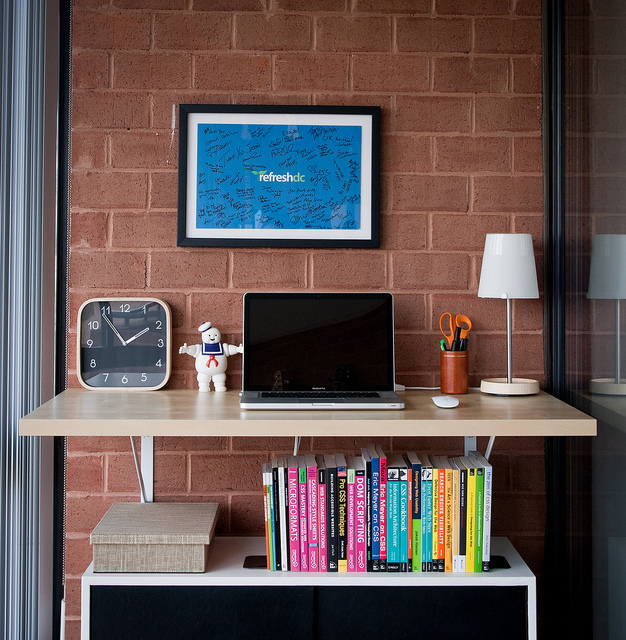 ---
P.S. Feel free to suggest any other photos/manufacturers you come across.